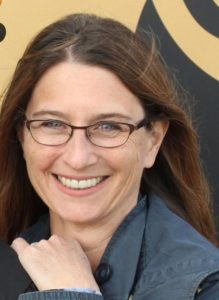 How I Started
I'm Holli Boyle. When I took my first stained glass class eighteen + years ago at Wonderland Stained Glass, it wasn't so much that I had always wanted to learn how to do stained glass. I just wanted to get out of the house. My daughter was 4, my son was 12. For an hour twice a week I gave myself permission to be somewhere else, talking to other grownups, learning something new, making stuff.
About a year later, my dogs' obedience instructor suggested I start doing pet portraits in glass. I started making my own patterns and building an inventory with a plan to do craft shows and dog shows. My first show was at the Steel City Kennel Club's dog show at the Lake County fairgrounds. I made enough to pay my booth rental and got a few custom orders as well, and that was it: I was hooked.
Kilnwork
The more I worked with custom orders, the more I felt the limits of what I could do with basic stained glass. Glass doesn't come in "brindle," for example. I also prefer portraits that are more representational than abstract. My search for brindle glass ultimately led me to fusing, which is a whole other ball of wax. In a nutshell, it's fun to melt stuff. You can never be completely sure what you're going to get until you open the kiln (generally about 12 hours after you closed it). Every piece is different, and I'm always experimenting with new techniques. I use powdered glass frit, enamels, and paint. Some portraits come out great the first time; others take 3 or 4 attempts. It's the challenge of creating something just so in a medium that changes as the light changes that keeps me at it.
Recycled Glass
I love working with glass. The last several years I've added recycled glass to my mix of experiments. Recycled glass is a challenge to work with, and I enjoy coming up with new ways to use all parts of a bottle. I do all of my work in my basement studio (aka "The Laundry Room") which opens conveniently onto my garden. I say conveniently because my assistant, ZuZu (a mastiff mix) is constantly going in and out all day. Even with all of her busy comings and goings, she keeps an eye on me, reminding me when it's time to eat, or get a drink of water, or play tug. All in all, not a bad way to pass the time.